>

>

Japanese Lessons with Madelin…
---
Japanese Lessons with Madeline (Lesson 1 - Hiragana Alphabet Part 2)
Hi everyone!
This is my second Japanese post! You can find my first post here.
In the first lessons, I'll be reviewing the Table of 50 sounds. In part 2, we'll be learning the long vowels of the Japanese language. They have the same characters of the short vowels of the alphabet, but have 2 characters instead of 1. Instead of being pronounced like the long vowels in English, they sound like short vowels but are held for a little longer. I'll also show you some punctuation marks.
According to Google:
Hiragana is a Japanese syllabary, one basic component of the Japanese writing system, along with katakana, kanji, and in some cases rōmaji (the Latin-script alphabet). The word hiragana means "ordinary syllabic script".
Perfect Pronunciation of The 5 Japanese Vowels
---
THE JAPANESE LONG VOWELS
ああ: ā
いい: ii
うう: ū
ええ: ē
おお: ō
Here is a picture of the Table of 50 sounds: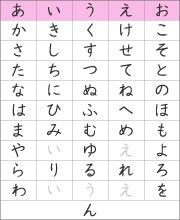 ---
SIMPLE JAPANESE WORDS MADE OUT OF SHORT AND LONG VOWELS
Oh! (you remembered something): あ! (a)
I see. (you are convinced): ああ. (ā)
Oh, no. (you are disappointed): あ-あ. (āa)
Noooo! (something bad is happening): ああああ! (aaaa!)
Stomach: written 胃, pronounced い (i)
Good: いい (ii)
Is it OK? (you are asking to be allowed something): いい? (ii?)
No: いいえ (iie)
Excuse me? (you didn't understand something): え? (e?)
Well/Uh/Umm (something you say before you start talking): え- (ē)
Yes: ええ (ē)
Ohhhh! (you are really surprised): ええええ! (eeee!)
Wow! (you are surprised in a good way): お! (o!)
many: おおい (ōi)
Hey! (calling someone far away): お - い (ōi)
Wow!!! (something great is happening): おおおお! (oooo!)
---
I hope you enjoyed this Japanese lesson. Please comment and upvote so I can make more posts! If you have any questions, feel free to write in either Japanese or English!
---
頑張りましょう!- Madeline