>

>

Duolingo and the power to all…
---
Duolingo and the power to alleviate the European migrant crisis
No doubt you've all been hearing about the migrant crisis in Europe the last couple of months. Hundreds of thousands of people are risking everything in order to move from unsurvivable conditions in their home countries, to other countries where they have a much better chance at a normal life.
Eventually, most of the migrants make their way to either Germany or Sweden. As both have powerful economies, and are more vocal in their welcoming of migrants. We've all seen the great acts of human compassion shown by volunteers. We've seen the activist convoys that went from Vienna to Hungary to transport the migrants. We've seen the wonderful reception of migrants in Munich, and the kind Munich police officer that let a child wear his police cap.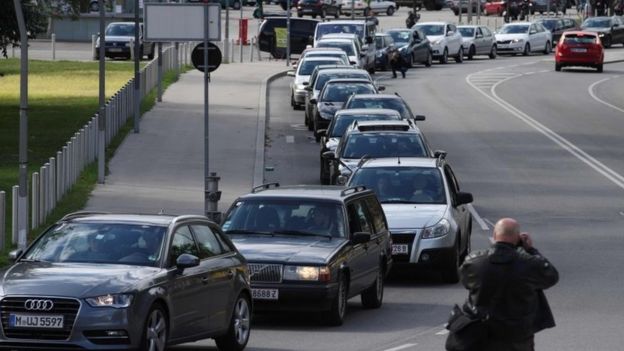 Above: Volunteer convoy going to Hungary to transport migrants. Below: German police officer letting a child wear his police cap as volunteers welcome migrants to Munich
What we mean to say is: it's these acts that in the end that make a difference. They inspire millions around the world, they warm our hearts, they connect us to each other, and they make us one. Regardless of what a government officially does, or what it has to plan for, it's these acts of human compassion, acts by ordinary people that are just like you and us, that truly shine and make the world a better, safer and a more humane place.
We all joined Duolingo believing in the idea of providing free education to the world, the same idea of human volunteering, that in its core has the power to change the world.
According to official German records of asylum seekers, out of almost 200,000 that officially applied for asylum this year from 1st of January to 31st of July, almost 30% (Syria + Iraq + Eritrea) are Arabic speakers. Those are the ones that have applied, let alone the ones waiting to apply as Germany is set to expect up to 800,000 migrants this year.
And according to the official statistics provided by the Swedish Migration Board, out of almost 71,000 people granted asylum in Sweden this year, around 31% are Arabic speakers mainly from Syria and Iraq. Arabic speakers account for more than 40% of the total 50,000 people who sought asylum in Sweden this year.
More numbers on the issue: Crisis in Graphs.
From this standpoint, we would like to dedicate ourselves to a cause as noble and as human as this. We, the arabic contributors on Duolingo, would like to push Duolingo into an even better position. A position where it can help hundreds of thousands of migrants in learning the languages of the countries they sacrificed a lot to reach.
Now that the English for Arabic speakers course has graduated, we have the time, the experience and the energy for something new. It would honor us to get the chance to build such courses as: German for Arabic speakers (GunnyTunes and mvchamad) and Swedish for Arabic speakers (Latif_ and mvchamad), in hope that one day we would help someone out there feel at home, in their new country.
GunnyTunes - C1 German proficiency, living and working in Berlin, Germany
mvchamad - B2 German, B2 Swedish, living and studying in Gothenburg, Sweden.
Latif_ - C1 Swedish, living and studying in Trollhättan, Sweden.