---
A neat little trick for iPhone users!
Greetings fellow linguaphiles!
You guys, being a girl is really hard sometimes! Like when you like your long nails, but you also want to Duolingo, so you have to type really carefully so it doesn't get marked as wrong. #firstworldproblems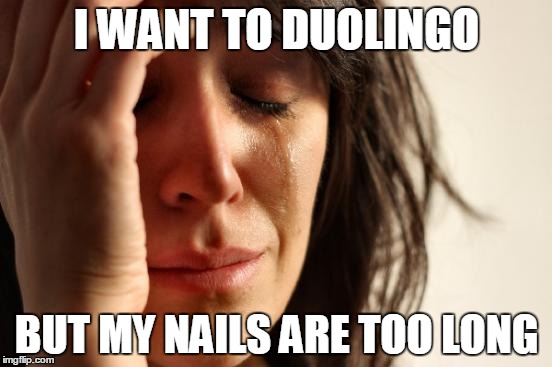 Anyway, because of this I discovered a neat little trick, that also improves your speech! I know that Duolingo has speech exercises, but for some reason they don't work very well for me, so this is a great solution.
So first, you'll want to go to your iPhone settings.
My background is a TARDIS, because my phone is bigger on the inside, obviously.
Go to your general settings:
Go to your keyboard settings:
You can see your installed keyboards here, so click it:
As you can see, I have an English and a Swedish keyboard installed, because I'm learning Swedish. Click add new keyboard and select the keyboard that matches the language you're learning. So if you're learning Danish, select the Danish keyboard. If you're learning French, select the French keyboard etc.
Now for the fun part! Fire up your Duolingo app and start learning. I have already finished my tree, so I will be practicing my weak skills.
Now the fun thing about Duolingo (or the iPhone, but let's just pretend this is an awesome Duolingo feature) is that it automatically knows what the input language is. So because it wants me to type in Swedish, it automatically gives me my super awesome Swedish keyboard. But wait, there's more! The speech input language is now also Swedish. Which means that if I press this button...:
...I also get to practice my speech! So clear your throat:
This helps you with your pronunciation, since it will give you some weird stuff if you don't pronounce things clearly. If it doesn't register what you mean to say, you can delete the sentence and try again.
And tadaa! You are now practicing your speech even though Duolingo is not giving you speech exercises. And if you do it right:
The great thing about this is, is that you can choose what you want to practice. You can decide to type the sentence, or you can say it. If you don't know exactly how to write a certain word, but you know how it's pronounced, you can say it and see the word popping up.
And, if you're like me, you can also do it for your English sentences, because you're lazy, or your nails are too long.
Let me know how this works out for you guys!