>

>

[GUIDE]I don't have immersion…
---
[GUIDE]I don't have immersion, how do I get it?!?!
Hello. I am sorry to inform everybody, but Immersion has been discontinued. This post is null & void, but I will leave it up as a memory to immersion <3 PLEASE STOP COMMENTING
I have seen many posts asking for Immersion back, and many posts asking why it disappeared unfairly or if they are new and have never used it before, and have heard it on the forums and are intrigued and want to use it. For those of you who do not know what immersion is, according to the wikia, it is defined as:
The Immersion feature allows users to practice the language they are learning by helping to translate real-world documents from that language into one they already know
As also stated by the wikia, immersion is no longer available
The Duolingo CEO announced in June 2015 that they have stopped developing immersion. Furthermore the last course granted of Immersion is English for Romanian speakers course (which reached beta phase on 2014/02/04). Consequently, it is currently only available for some of the first courses that reached Phase 2 and will not likely be added to other courses. Around December 2015, Duolingo started an A/B test to evaluate Immersion, and that explains why some users have the immersion feature and others do not. There is no official statement about it but due to the fact that Immersion is not developed anymore since at least October 2014, it is possible that this A/B test tries to evaluate if a complete removal of Immersion for all courses and users would have a negative impact on their experience. Moreover, the end date of this A/B test is unknown (as for any A/B test).
---
Now, to my main point. How does one get immersion if they have been left out of it from the A/B test or simply because they are new! There are 2 ways to get to immersion, the upload method and the incognito method. I will start off with the upload method.
---
UPLOAD METHOD
To start this off, go to this page for uploading translation articles , and click Free translation, once you have that page open, open a new tab and search for an article.
This can be easily done by going to a Wikipedia page and choosing an article there, which is what is going to be done in this example for the sake of simplicity, but you can choose any article as long as it isn't copyrighted. I will explain copyrights later.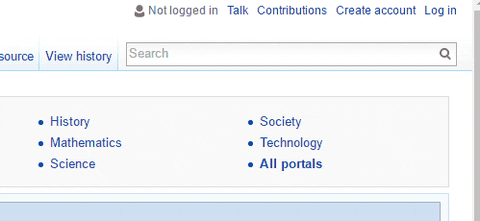 Once you go to the page you want, go to the url and select it by dragging the mouse and highlighting the entire url.

You must press control and while holding it, press c, and then you are ready to go to the next step(ctrl+c, which copies the url) If it is on a copyrighted website, it will tell you that you are trying to use copyrighted material without the proper account, if you do not want to wait for a response from the Duolingo team, go to another website and start again from the beginning. If it is not copyrighted, continue.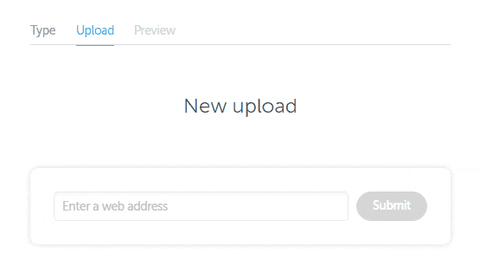 After that, you press control and v, (CTRL+V) and paste it into the area to upload the URL to Duolingo for immersion.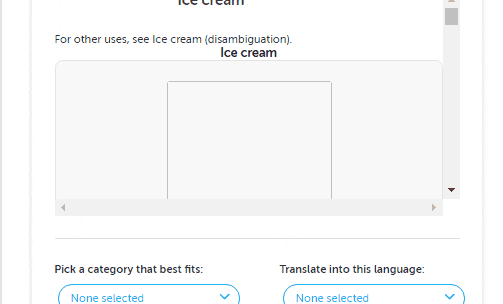 After you enter, it will show a preview, select the correct category for YOUR article, not the example one. After you did that, then upload. (Sorry for the gif cutting off, computer troubles)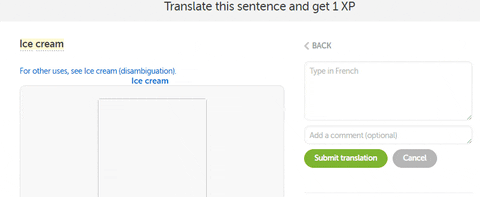 Now, you can get to translating!! Just click on the sentence you want to translate, and get to translating!!
---
INCOGNITO METHOD
Personally, I find this method easier, but the links on the immersion tab can be erased and not all articles will lead to a translation page.

Go into your incognito browser (Windows users do CTRL+SHIFT+N, Mac users do ⌘+SHIFT+N) and type this or just copy paste it from here: http://www.duolingo.com/translations/en/es (If you don't have immersion and click on that link you will get a 404 page, btw)
When you get there the page will look similar to that of the picture above. You can explore the categories and see what you like, but most of the popular articles, are either deleted or fully translated, so it is suggested you go to newest, which you can go to when you click on Sort by: Recommended, and changing it to Newest.
From the gif above, you can see that there are only a handful of languages. These languages are
From English: German, Dutch, Spanish, French, Hungarian, Italian, Polish, Portuguese, Romanian, Russian, Turkish
Languages that have options to translate to English: German, French, Italian, Spanish, Portuguese
Languages that have options to translate into Spanish(besides English): French
If you are wondering why your language or another language is not there, Jrikhal explains it in this comment: https://www.duolingo.com/comment/14179375$comment_id=14180819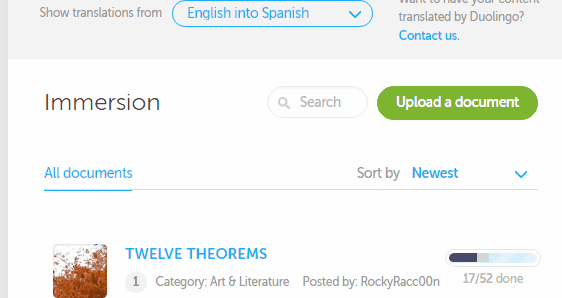 You can now go into an immersion article, BUT, you can't translate or click on anything as seen in this gif above.

You need to copy paste it back to the non-incognito tab and then you can translate again as shown below

Once you have done that, you can translate, like seen above!!
---
IMMERSION ETIQUETTE (open to suggestion in comments)
You can read the Etiquette here on the wikia page: http://duolingo.wikia.com/wiki/Immersion_Community_Guidelines_(Unofficial) , but there are some main ones I want to point out here
Try to use correct and consistent grammar throughout the page

Be consistent throughout the text, e.g. Goldilocks is Goldilocks from the beginning to the end of the text (not blondylocks or goldenhair);

If you see something incorrect, don't downvote if it is something minor like if you leave out a word or if you see a typo, correct it, and share the credit with the original translator.

If something was obviously copied pasted from Duobot and it was poorly translated, and this occurs several times throughout the article, you can report abuse, because a bad translation is not good, these websites get translated and sent to be on those websites.

Etiquette rule by amaratea: Don't be lazy and do some research during your translation. Official institutions usually have their established translations, as do titles, terms, names etc. This all can be found on Wiki or their respective webpages. E.g. Russian tsar Ivan the Terrible is Иван Грозный, not Иван Ужасный, and Norwegian king Olav den hellige is not Olav the sacred, he is St. Olaf or Olaf the Holy.
---
Thank you for reading this, and I hope I helped you access immersion, even if you don't have it, I hope they let everybody use it some day. If you see any typos, or have any suggestions to make this guide easier, please let me know in the comments. If you still have any questions after reading this guide, ask down below in the comments or ask a moderator. Thank you!! -J