>

>

I have climbed my Esperanto t…
---
I have climbed my Esperanto tree! :)
I finally have conquered my Esperanto tree. :) The Esperanto journey was fascinating, and a journey of adventures. :)
---
I didn't complete my Esperanto tree in my first attempt. Completing the tree required me to be dedicated, passionate and interested in the language. My first attempt to learn Esperanto was two years back when I was looking for extremely easy trees to complete because I was desperate to see how the celebratory owl looked like. I had never seen one until last year (2016) so two years go, an owl was more than just a golden owl sitting at the end of the tree to me. I tried Norwegian, Swedish and a few more languages so that I could choose the language I wished to learn. Some time later, I read on a discussion post that Esperanto was an extremely easy language and one must try that. Those days, the Esperanto tree was a new tree, which had just joined the other incubated trees. :) Esperanto was always exciting to me. Unfortunately, that attempt wasn't a successful one and I had quit. I deleted Esperanto from my profile and just resumed with my French and Hindi trees.
I completed my Hindi and both my French trees last year. That was when I thought that I must try an easy language just to take a break from any serious language learning activity. I was wandering one again. While learners would be busy with their trees, I would wander amidst the incubating languages, just wishing that an easy language 'magically' appeared and that language would be the language I would learn next. Did not happen. :) At that time, I thought of relearning Esperanto because it was the only language that I thought might be easy for me to learn. I restarted Esperanto! :) I thought of building new strategies so that I wouldn't again quit. After a lot of thought and courage (I'll tell you why later), I decided to note all the words I learnt in a notebook. I numbered the pages in that book till 20, just to see whether I could reach the goal of filling 20 pages with Esperanto words. The notebook kept me going and that was the reason why I continued learning Esperanto.
After a while, I stopped learning Esperanto. I was attracted by the other language trees like Portuguese and Spanish. I had begun Welsh and Swedish some time ago (before Esperanto) so I kept levelling up in these languages. I wouldn't have been able to complete my Esperanto tree had it not been the post by an Esperanto course contributor who said why must one learn Esperanto. I must say that I was inspired by her post and resumed my Esperanto course. :) I hadn't stopped working on my Esperanto tree since then. There were times when I felt like learning Spanish and Portuguese since I had been ignoring all the languages other that Esperanto. There also were times when I would count the number of skills left to learn. Amidst all these thoughts, I managed to sail through the difficulties and then came a day when I could see the bottom of my tree...- no, no! I must say the top of my Esperanto tree. There were 14 skills left and one week to New Year.
So, I made my resolution to complete two skills each day, no matter what and then end my tree on the 31st December 2016. :) I did so by setting my goal and then putting it up on my bio so that I could always remember about my goal. I managed to complete my tree in the end and in the end when I was one question away to complete my tree, I was glad. The ending was more like the time when we countdown to a new year. :)
---
I rushed throughout the Esperanto tree. I realise that. I am going to re-gild my Esperanto tree and make sure that I understand all the grammar rules and use a lot of resources. :) One of my reasons to learn Esperanto was because it is said to be a 'constructed language'. I didn't know what a constructed language was before. Another reason was because it is said to have many words from several foreign languages. Since I was having difficulty learning other languages especially due to the vocabulary, I thought of trying Esperanto.
At the moment, I am able to identify the words I learnt. I still am not able to construct sentences properly. I also need to work a lot on my pronunciation and speaking skills. I am doing an Esperanto course suggested at the final post. I will be doing some Memrise courses later on. :) I intend to be somewhat fluent in Esperanto by the end of this year. :)
---
This is my fourth tree. I have learnt a lot while learning Esperanto. It isn't just a language one learns while learning a language, but a whole set of new rules, ideas and a new approach to look at things around you. I learnt that no language is an easy language, but by devoting lots of time and by working hard, one can find a language to be easy. I wouldn't have been able to complete my Esperanto tree had it not been my friends who motivated me right from the beginning till the end of the course. I also was inspired when I saw my friends' accomplishments in Duolingo. I would like to thank the Duolingo team for providing a platform to build a course on Esperanto, the course contributors for building such an amazing course with many funny and thoughtful sentences, my friends for motivating me all the time and the Duolingo Esperanto community for helping me with my questions. Thank you! :)
---
My next tree will be the Swedish tree which I'll have to complete by the 31st January as I am participating in the Eurovision Challenge. I have chosen Swedish to be my next completed tree since this is another 'easy' language I am going to learn and work on! :)
...and whenever I am tired while learning Swedish, I'll look at this...


and remind myself how fun and rewarding can language learning be! :)
---
Happy New Year everyone! :)
Some fireworks to welcome the new year...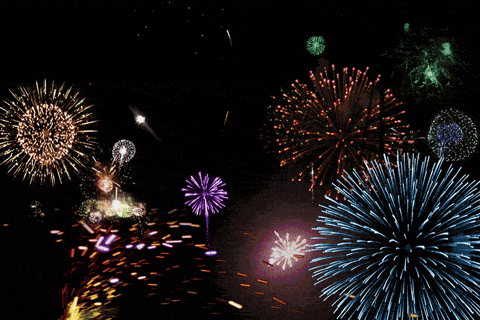 ---
[Tree climbed on 31.12.2016, posted on 02.01.2017]