>

>

Top 7 traditional dishes of V…
---
Top 7 traditional dishes of Vietnam
The dishes on New Year always brings culinary traditions of Vietnam difference. Gone through a long history, the increasingly salty dish that over time while maintaining identity. Wikis let you learn culinary culture day festival in which, the signature dish is typical press will bring to every home Tet atmosphere offline.
This cake has a long history associated with the legend of the 16th Hung King Lang Lieu. In order to express his gratitude to his father and the earth and sky, Prince Lang Lieu has created cakes symbolize earth referendum. Green beans meat banh chung. Being single cake long history of culinary culture Vietnam main ingredients make banh chung is the sticky rice as emphasizing the importance of trees and natural rice in rice culture, in addition there are green beans, pork, the line is packed square and bring boiled. Pineapple cake, blue green leaves. This is the traditional food of the people of Vietnam.
Silk rolls (pork bologna)
Silk rolls appear as a luxury food and often during the Vietnamese diet. Sausages made from three main materials are crushed lean tenderloin combined with delicious sauce then wrapped in banana leaves and boiled ripe green. Scented sausages of ground meat taste, crunchy, delicious and nutritious.
Appeared in rice culture, flung by map from glutinous rice dishes as well as a national identity Vietnam. This is a very popular dish. The main raw materials are agricultural products such as rice, beans, peanuts ... get carried away toys or steamed. Sticky rice dish is usually served hot, cooked to rice, aromatic plastics, not crushed not very pristine. According to cultural notions Asian countries generally red brings good luck, prosperity sand. So, when items are often used away to distant Gac fruit for good luck red, natural red a home. Vietnam says people from distant red beet will make them meet lots of luck in the new year.
Aromatic crispy spring rolls with sweet and sour sauce dots is a very tasty dish, and more and more foreign customers love. Making spring rolls are not difficult, the indispensable ingredients are finely chopped pork, eggs or duck eggs, a few root vegetables like turnips, carrots ... along with sorghum, wood ear ... with less spice mix and bring the book with pancake (rice paper) and then fried (fried) gold.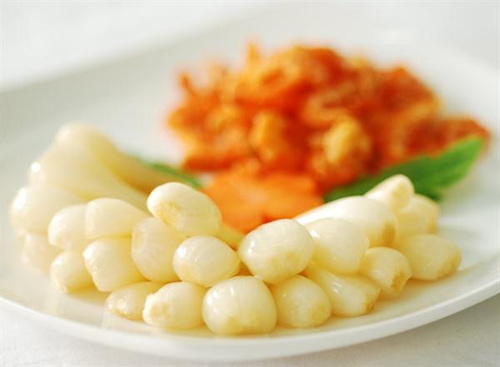 "Meat fat, pickled onions, red couplets. Tree Miraculous, green banh chung "is that the Vietnamese cocoa knows every Tet to spring. This is an indispensable dish with sour, salty, spicy salt to the onions. Salt also how incredibly simple act that Vietnamese family knows. First of all, you need to look kind of old, bulbs firm, cut off the tail leaving only the roots. Then, soak the onions in water mixed with borax ash over a period of 2 days and 2 nights. Next, remove the onion, cut off the roots, peeled leaving only about 5cm and then packed into jars, salt spreader, leaving a thin layer of chopped cane, then laid back class act with bamboo blister. After 2 weeks, you can take the issue to the glass into the glue, then cook the vinegar water to cool for on the road. About 3 days is edible.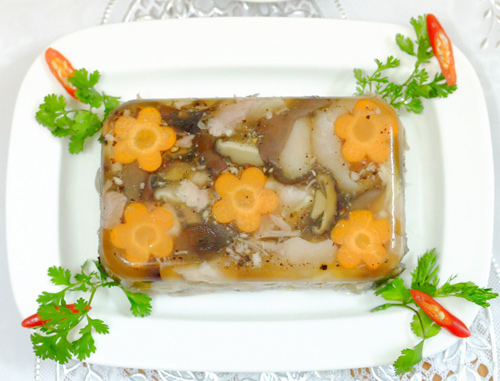 Frozen meat dish of the North made its own in cold weather. In the cold air, frozen meat becomes tastier. This dish is made from pork only three, sometimes used whole chicken, plus an array of pork skin. All are stewed. Once cooked, remove from heat and place you take the meat out pitch pot; cover feed him drink dew wind, the bitter obtained from on high and low ground next to her so soon, has frozen meat pot right type. On the east side of the pot meat fat layer boards with snowy white powdery golden hues as unruffled lake. A frozen piece of meat attached a pickled onion bulbs, then it literally northern New Year.
Na shoots creative cuisine and sophisticated processing and tinged Tet. How this dish is not difficult, bringing the soaked dried bamboo about 2 days and thoroughly cooked, drain it as many times as white cement and delicious. When you see the soft bamboo shoots, shredded into pieces, spices including pepper, garlic, sugar, salt, MSG, according to each person's taste can add five spice powder until fragrant, a little sugar to add interesting color paste. Pork butt to look kind of tasty meat, pork leg, nails, after cleaning, cut them to pieces, sauté the meat and marinate the general hunting with bamboo shoots soaked in spices, for all into a big pan, put up small kitchen fire repellent, seasoned with salt and MSG to fit, especially without seasoning sauce for cement will be sour, not long-lasting in the New Year ...
The dishes on New Year always brings a flavor, the rich and the homeland flowing petal. During Tet, the home can not do without this dish when families gather Year's feast, fun, and bless and welcome a new year full of wealth.
---
Happy New Year 2017 !
Link source: http://wikicachlam.com/nhung-mon-an-truyen-thong-cua-viet-nam-trong-ngay-tet/
Link Vietnamese topic: https://www.duolingo.com/comment/20479384$comment_id=20499558
Thanks for reading this topic!
... HuynLy ...