---
What language is that?
No, I'm not actually asking a question about a language. This is a game.
How to play:
There will be sentences written in a language here. You have to guess what language the sentence is written in. If you guess one correctly, you win 10 lingots. Competition will end 12:00 AM UTC, 7:00 P.M EST since I will not be able to look at entries after that.
1:
Kada benadam i benadam nase forro i igual en dinyidad i en derechos. Todos son baale razon i konsiensia i deven komportarsen los unos verso los otros kon fraternidad.
2:
人皆生而自由;在尊嚴及權利上均各平等。人各賦有理性良知,誠應和睦相處,情同手足。
(Hint: it's not mandarin)
3:
.هەموو مرۆڤ ئازاد و دوەقار و مافان دە وەکهەڤ تێن دنیایێ. ئەو خوەدی هش و شوئوورن و دڤێ لهەمبەر هەڤ بزهنیەتەکە براتیێ بلڤن
4:
Бардык адамдар өз беделинде жана укуктарында эркин жана тең укуктуу болуп жаралат. Алардын аң- сезими менен абийири бар жана бири-бирине бир туугандык мамиле кылууга тийиш.
5: Барлық адамдар тумысынан азат және қадір-қасиеті мен кұқықтары тең болып дүниеге келеді. Адамдарға ақыл-парасат, ар-ождан берілген, сондықтан олар бір-бірімен туыстық, бауырмалдық қарым-қатынас жасаулары тиіс.
6:
Tudo ser humano na ês mundo nacê libri e igual na sê dignidade e na sês drêto. Na sês razon e na sês concénça, tudo arguem debê porcêdê pa co tudo guenti na sprito di fraternidadi.
7:
Mayma yvypóra ou ko yvy ári iñapyty'yre ha eteĩcha tecoruvicharendá ha acatúape jeguerekópe; ha ikatu rupi oikuaa ñetéva ha añete'yva, iporãva ha ivaíva, tekotevẽ pehenguéicha oiko oñondivekuéra.
8:
ЦIыху псори щхьэхуиту, я щIыхьымрэ я хуэфащэхэмрэкIэ зэхуэдэу къалъхур. Акъылрэ зэхэщIыкI гъуазэрэ яIэщи, зыр зым зэкъуэш зэхащІэ яку дэлъу зэхущытын хуейхэщ.
9:
Hānau kū'oko'a 'ia nā kānaka apau loa, a ua kau like ka hanohano a me nā pono kīvila ma luna o kākou pākahi. Ua ku'u mai ka no'ono'o pono a me ka 'ike pono ma luna o kākou, no laila, e aloha kākou kekahi i kekahi.
10:
Bila'ashda'ii t'áá ałtsoh yiník'ehgo bidizhchįh dóó aheełt'eego ílį́į́go bee baahóchį'. Eíí hání' dóó hánítshakees hwiihdaasya' eíí binahjį́' ahidiníłnáhgo álíleek'ehgo k'é bee ahił niidlį́.
11:

12:
Адӕймӕгтӕ се 'ппӕт дӕр райгуырынц сӕрибарӕй ӕмӕ ӕмхуызонӕй сӕ барты. Уыдон ӕххӕст сты зонд ӕмӕ намысӕй, ӕмӕ кӕрӕдзийӕн хъуамӕ уой ӕфсымӕрты хуызӕн.
13:
Aw human sowels is born free and equal in dignity and richts. They are tochered wi mense and conscience and shuld guide theirsels ane til ither in a speirit o britherheid.
14:
Bonke abantu bazalwa bekhululekile belingana ngesithunzi nangamalungelo. Bahlanganiswe wumcabango nangunembeza futhi kufanele baphathane ngomoya wobunye.
15:

16:
Zhdo njeri kan le t'lir mê njãjit dinjitêt edhê dreta. Ata jan të pajisun mê mênjê edhê vet-dijê edhê duhën të veprôjn ka njãni-tjetrin mê nji shpirt vllâznimit.
17: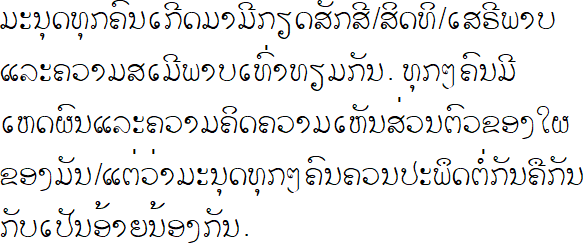 18:
Toate ființele umane se nasc libere și egale în demnitate și în drepturi. Ele sunt înzestrate cu rațiune și conștiință și trebuie să se comporte unele față de altele în spiritul fraternității.
(easy one)
Translation: (All the languages translate to the same thing)
All human beings are born free and equal in dignity and rights. They are endowed with reason and conscience and should act towards one another in a spirit of brotherhood.
(Article 1 of the Universal Declaration of Human Rights)
(sentences taken from Omniglot.)
Good luck! :)
-Woof.