---
[Conversation] with Gold Contributor : Japanese for English Speakers course
daKanga
227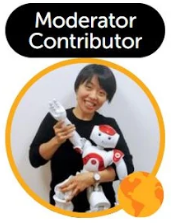 A conversation with jkanero, Gold Contributor for the Japanese for English Speakers course.
Jkanero is the lead incubator contributor and forum moderator in Duolingo's Japanese for English speakers course.
As a postdoctoral research fellow at Koç University in Istanbul, Turkey, jkanero is working on the L2TOR project http://www.l2tor.eu/, designing a social robot to help children learn a second language.
J: jkanero
L: lindakanga
---
L: Welcome jkanero. May I also call you Junko ?
J: Yes, of course!
L: In looking at your profile, I notice you joined Duolingo 4 years ago, so back in 2014.
How did you come to know about Duolingo?
J: It was when I spent a year in Carnegie Mellon University (CMU) in Pittsburgh. A friend of mine back home casually mentioned Duolingo to me just because I was at CMU and he thought I might know something about it. I tried the app a little bit but didn't start using it right away.
It wasn't until I came to Turkey, about 2 years ago that I first started using Duolingo.
I knew no Turkish when I came. Duolingo helped me a lot, and I started to learn more about the app and the Duolingo community.
L: What inspired you to volunteer for Duolingo?
J: I have many friends who study Japanese, not only here in Turkey but also in other countries like the US and Syria where I used to study. When I talked about Duolingo with those friends, so many commented that they were so sad there was no Japanese course in Duolingo.
Some of those friends were very passionate about learning Japanese but did not have resources to do it. I found out that people had been working on the course but it still needed volunteers. I didn't even know volunteers were making Duolingo courses until then! After learning that, it was very quick, I applied to become a course contributor and started to work on it. The process was very easy for me!
L: What was the process of applying to be a contributor in Duolingo like for you ?
J: It just asked me why I wanted to be a contributor and why I was qualified. I wanted to become a contributor because I wanted to help my friends and people all over the world who want to learn.
I am a psychologist and neuroscientist, and my research is all about how humans use and learn language. I also have a lot of experience in teaching language, Japanese, English, and Arabic, so I was pretty confident.
I always wanted to volunteer to help people and the experience I had as a Duolingo contributor got me interested in volunteering to provide language education in other settings. I just know there are so many people who cannot have access to basic needs - food, shelter, but to me perhaps most importantly is education.
L: Oh, so you also volunteer for other communities?
J: Yes, I have been volunteering at a local NGO called Istanbul&I.
L: So why Istanbul&I ?
J: To be honest, I didn't have many choices. Back in college, I studied Arabic back in Aleppo, Syria. Because of the great experience I had there, I have been most passionate about doing something for displaced people from Syria. I moved to Turkey, thinking that physically being in the Middle East would give me more volunteer opportunities. But at first, I really could not find an organization that let me volunteer in my spare time.
I have a full-time job so I cannot volunteer during the day on weekdays, and it needed to be an organization that let me volunteer in evenings and on weekends.
I randomly came to know Istanbul&I at their fundraiser event. It was at a stand-up comedy show, and I just went there to have fun. I didn't even know a volunteer organization was doing it!
L: Great comedy amuses and educates us, and gives us new and better ways to see and think about the world and ourselves.
J: Some of our volunteers/comedians were recently featured in Al-jazeera! I myself did a comedy once for our fundraising event! That was fun, but terrifying, haha.
L: Oh my! You performed in a stand-up comedy show! As I have observed your friend Berna commented on Facebook "Junko is there anything you're not part of?"
And you quipped back : "Good question. Let me know if you think of one because I'm gonna be part of that."
I am just wondering, what do you do at Istanbul&I?
J: Istanbul&I is a volunteer organization dedicated to social impact for disadvantaged and displaced communities. We do all kinds of volunteer and social inclusion programs, from distribution of food, to providing language practice sessions, to hosting cultural events. In our Language Speaking Club, we also encourage students to use Duolingo and use it in some of our sessions!
L: I see. What attracts you to Istanbul&I, may I ask?
J: What I love most about Istanbul&I is its inclusiveness and diversity! It's a place where anyone who is motivated can do good. Each volunteer uses their talent in their spare time. We have teachers, engineers, journalists, social workers, photographers, lawyers, people from all different kinds of background, from over 65 countries. The diversity makes the community unique and really interesting.
L: We have covered so many topics that I knew nothing of. And have not touched on some of the issues I thought we may have touched on in a conversation with you. I hope we might get to have a chat again in the future.
J: I hope so too!
L: Thank you, as always, for your generous support for this community.
If any of you have additional questions you may like to put to Junko, could you ask them here. Then in a future conversation, we might be able to pose them if time permits. And perhaps if Junko finds time, maybe she may even answer them here.
Thank you Junko for the time that you have contributed in so many ways for the benefit of providing quality language learning for free. Not just in this Duolingo community, but also with Istanbul&I. As an individual that is passionate about quality learning being available for free, I personally hope that if you are curious, you the reader may also check out http://istanbulandi.org/about/ .
---
العربية/Arabic | English | français/French | deutsche/German | 日本語/Japanese | русском/Russian | Türkçe/Turkish