---
Thank you : to YOU all, our Duolingo community.
daKanga
172
Thank you to ALL Dynamic Duolingoers.
On the 20th April, 2018, Duolingo posted this announcement and thank you.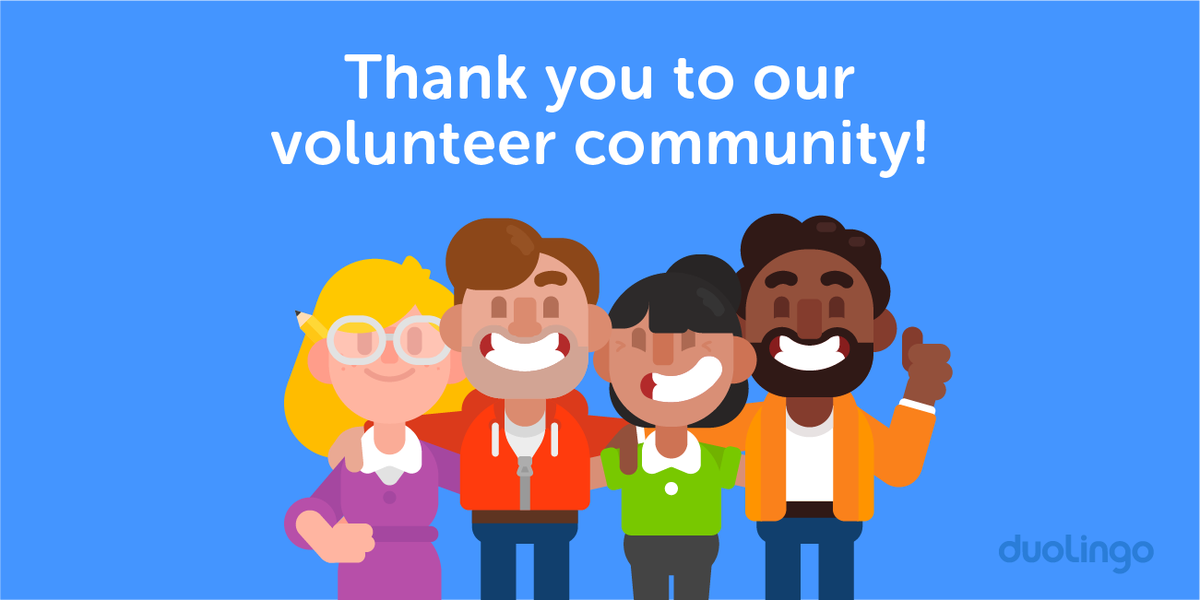 Huge shoutout to the 500+ volunteers worldwide who have helped us bring new languages to all of you!

Did you know most of our courses wouldn't be possible without their amazing work? Thank you to our volunteer community!
see:
---
This is a post to further celebrate the amazing work that people world wide do, that are a key part of what allows Duolingo to be able to provide quality language learning, that is fun and free for people to learn.
While also celebrating those that have contributed and are contributing to maintain and improve courses through work done in the Incubator, it is also to celebrate our Global Community.
Not just those that perform officially recognized roles, through being a Global Ambassador.
It is also our those in our community that strive to be outstanding in their interactions in this community, by embracing the intention of both Duolingos Manifesto and Guidelines, as well as advice found in Duolingo Wiki & FAQ (unofficial, but still amazing).
To do this, and make this discussion have relevance in the future, here is a list of posts of Interviews, Conversations and Stories, about this amazing community that thrives in this land of lingots and little green owls.
Thank you each of you, who are reading this, for the gift you create today through learning languages and choosing in your interactions to show kindness to others, and with patience answer others questions concerning language learning and relevant Duolingo issues, both in our discussion Forums, and in our Sentence discussions.
And to those that make informative discussions that assist others with their language learning. Each one of you are SPECTACULAR !

.
List of Conversations, Interviews and Stories.
---
Incubator Stories:
Meet AlexinIreland and GunnyTunes
Meet amuzulo and niskigwun
Meet bjarkehs and runem
Meet Elladus and luke51991
Meet FrankySka :)
Meet jitengore and Damascene
Meet johanneswilm and yonoleo
Meet Jojomotion & Libragold
Meet KaiEngle & Wilvandal
Meet Kippis and JanisaChatte
Meet MThoriqMalano & ckhadung
Meet odoinn & Nitram15
Meet Selcen_Ozturk and Lavinae
Meet Simius and Vortarulo