---
Duo Strength - Chrome extension that adds back individual skill strengths
Hi everyone,
I made this chrome extension called Duo Strength that adds an indication of the strength of each skill on the skill tree itself, similar to how the UI looked before the crowns update. It will also put a clickable list of all the skills that need strengthening (i.e. not at 100% strength) at the top of your tree.
Here a screenshot of what it looks like at the moment: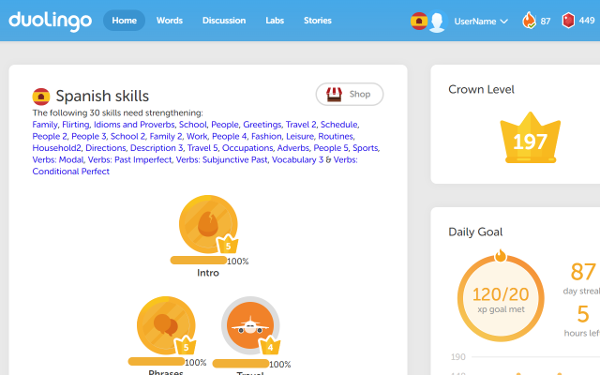 The goal was to make something so that I didn't have to check duome.eu/UserName/progress to see what needed strengthening every time before practising. I thought that others might be interested too as I have seen a few posts of the the last few months about duome and the crowns update.
If you are interested, you can download the extension at Duo Strength - Chrome Web Store. It's totally free.
For anyone also interested in programming, I have put all the code up on my GitHub, so feel free to complain about issues or contribute there! It's all open source under an MIT license!
Thanks for reading if you have. I suppose I should try to write this in Swedish too but maybe I'll leave that as a comment or for the Swedish forum so as not to make this any longer.
Toran
PS I hope this is okay to post on the forums and doesn't break any rules/guidelines. If it does I'm sure a mod will let me know so I can move it/take it down.