>

>

Duo Strength - Browser extens…
---
Duo Strength - Browser extension that adds back individual skill strengths
ToranSharma
823
Hi everyone,
I made this chrome extension called Duo Strength that adds an indication of the strength of each skill on the skill tree itself, similar to how the UI looked before the crowns update. It will also put a clickable list of all the skills that need strengthening (i.e. not at 100% strength) at the top of your tree.
Here a screenshot of what it looks like at the moment: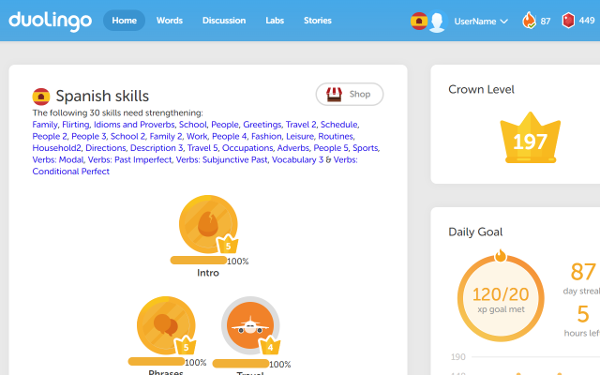 The goal was to make something so that I didn't have to check duome.eu/UserName/progress to see what needed strengthening every time before practising. I thought that others might be interested too as I have seen a few posts in the last few months about duome and the crowns update.
If you are interested, you can download the extension at Duo Strength - Chrome Web Store. It's totally free.
For anyone also interested in programming, I have put all the code up on my GitHub, so feel free to complain about issues or contribute there! It's all open source under an MIT license!
Thanks for reading if you have. I suppose I should try to write this in Swedish too but maybe I'll leave that as a comment or for the Swedish forum so as not to make this any longer.
Toran
PS I hope this is okay to post on the forums and doesn't break any rules/guidelines. If it does I'm sure a mod will let me know so I can move it/take it down.
Update 1.0.1
Hi everyone, thank you for all the positive feedback. I justed quickly pushed out an update to version 1.0.1 which fixes the needs strengthening list if you are in this new UI version as discussed in this post. Luckily I had this new layout on my neglected Spanish tree. It should auto update in within a few hours I would guess.
Nearly missed my train trying to push it out this morning...
There are a couple of things I know need fixing which I will try and do asap. This includes not loading the strength bars when first logging in, and listing uncompleted skills in the needs strengthening list at the top.
Update 1.0.2
Hi again,
Thanks to 01LearnFrench01 for pointing out that the extension says it could access the user's browser history. I believe this was due to me having left the 'Tabs' permission enabled from while I first trying to make the extension; I never used or needed it in the end. I have removed this permission so hopefully this should remove the message on install.
This update also removes skills that are yet to be started from the list of skills that need strengthening. These skills are shown as at 0% strength so had been considered in need of strengthening, this has been fixed.
The update should roll out in the next few hours I would guess. Thanks again for all the support, here a screenshot of the new install popup: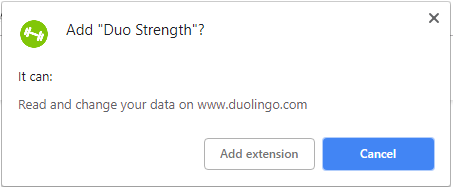 Update 1.0.3
Important update, even if not much to say about it. Language switching is now handled properly, as well as clicking links to the lesson in the needs strengthening list. Resolved issue #1 on the GitHub, thanks to @nicisfurst for reporting it. This has fixed how bonus skills are handled, which I think could have been a problem for most people.
Update 1.0.4
Duo Strength now loads on login to duolingo without requiring a page refresh. Various fixes to bonus skill strengths and fully strengthened trees. Duo Strength is now available as an add-on for FireFox! Available for download from the Firefox Add-ons page.
Update 1.1.7
Duo Strength is now available from the Opera addons store! Note that all updates need to be manually approved so updates may take a little more time than from Chrome and Firefox.
Thanks again, if anyone has any problems then either post then under the comment that mirrors the first update or add it as an issue on the GitHub issues page.