>

>

Duo Strength - Chrome extensi…
---
Duo Strength - Chrome extension that adds back individual skill strengths (på svenska!?)
ToranSharma
828
eller borde det vara: Duo Strength - Chrome tillägg att adderar igen särpräglad färdighet ork
I posted about a chrome extension I made on the main duolingo forum for English here and thought I would try and translate it to Swedish, so here goes...
Hej allihopa,
Jag gjorde detta Chrome tillägg som heter Duo Strength att adderar en indikation på orken av varje färdighet i trädet själv. Det liknar hur användargränssnittet såg ut förut den kronor uppdateringen. Det ska också lägga en klickbara lista över färdigheterna att behöva stärkas (dvs. inte på 100% ork) på trädets topp.
Här är skärmbild över vad det ser ut som för närvarande: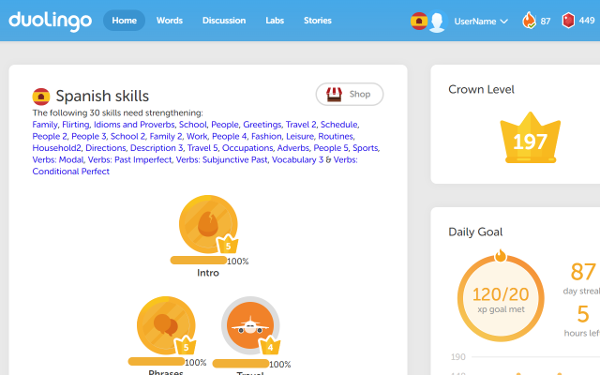 Målet var att göra någonting så att jag inte behövde checka duome.eu/UserName/progress att se vad behövde stärkas varje gång innan att träna. Jag trodde att andra kan också vara intresserad eftersom jag har sett några kommentarer under de senaste månaderna om den kronor uppdateringen.
Om du är intresserad så kan du ladda ner tillägget på Duo Strength - Chrome Web Store. Det är helt gratis.
Till någon som är också intresserad i programmering, har jag lagt den hela källkoden på min GitHub, så du är välkommen att klaga om problem eller medverka där. Det är helt öppen källkod under en MIT licens!
Tack så mycket för att läsa om du har. Jag hoppas att den här översättningen inte är för dålig.
Toran
I hope this is okay to post on the Swedish forum, let me know and I'll take it down.
Update post here: Duo Strength v1.1 update - på svenska!