---
Ka versus Ke
Ka wahine or ka kane means the woman or the man. Ke kaimahine or ke keiki kāne means the girl or the boy. All examples here begin with "the". What is the difference between "ka" and "ke"? When do I use ka and when do I use ke? Why can't you say ke kane or ka keiki kāne?
11 Comments
---
Use "Ke ao" which is "the clouds" as a cheat method to firgure out if you must use ke v. ka. if the object or person you are trying to point out has any of the letters k,e,a,o, then use ke. any other letters from the hawaiian alphabet use ka.
---
Aloha! If you look at the tips for the lesson "Determiners", it is explained that it depends on the begining of the word that follows the determiner. If the word begins with K, E, A, or O, it is ke . Else, ka. It is also told that there are specifics exceptions to use a ke in particular cases. I noticed for example : ke pākaukau (the table), but not before "pa" : ka papahele (the floor), but "ke" it is not used before every "pā".
---
On Android, there is a bulb when you click on the lesson, as for computer version. It is a recent update. If you don't have it now, i hope it will be soon.
---
If you are doing the course on iOS or Android, you probably cannot currently access the Tips & Notes through the app. To access the Tips & Notes, you will have to access the course using a web browser at https://www.duolingo.com/. You can still do it on your mobile device, but you will have to use the web browser instead of the app (or you can do it from a computer). When you click on a Skill, it will expand to reveal a Start button, a key, and a light bulb.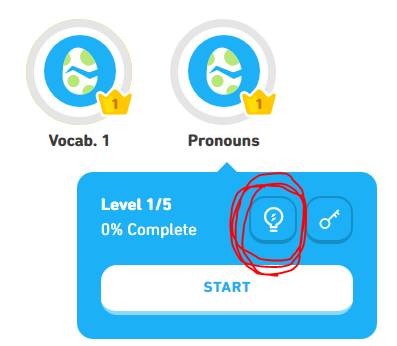 If you click on the light bulb it will reveal the Tips & Notes and give you an explanation of the grammar that is introduced in that Skill. If some Skills have light bulbs and some don't, it means that the Skills without light bulbs do not have Tips & Notes.
---
You use ke with singular words beginning with a, e, o, k and some words beginning with p & ' . You use ka with singular words with beginning with with other vowels & consonants.
---
I'm certain that Duolingo teaches "ke kāne" which then properly follows the rules of "ke" before k, e, a, and o. It's a lot like the rule of how in English we use "a" before nouns that start with a consonant and "an" before nouns that start with a vowel. However, Hawaiian does have some exceptions and unfortunately, you will just have to memorize the exceptions (though I've found Duolingo is generally very forgiving about the exceptions).