---
RUSSIAN STORIES: A DUAL-LANGUAGE BOOK
The story, or novella, as a literary genre has a much shorter history in Russia than in some Western countries, but it has nevertheless produced important works by some of the greatest names in Russian literature. This dual-language volume contains 12 such stories — memorable tales by Tolstoy, Dostoevsky, Pushkin, Chekhov, Gogol, Turgenev, Bunin, and other masters. Each selection is presented here in the original Russian with an excellent literal English translation on the facing pages. Also included are linguistic and cultural notes, a Russian-English vocabulary, study questions and more. In addition, Professor Struve has supplied an enlightening introduction to the Russian short story, as well as concise biographical/critical introductions to each selection. An especially helpful feature for students of Russian is the presence of stress accents in the Russian text, a feature usually found only in primers.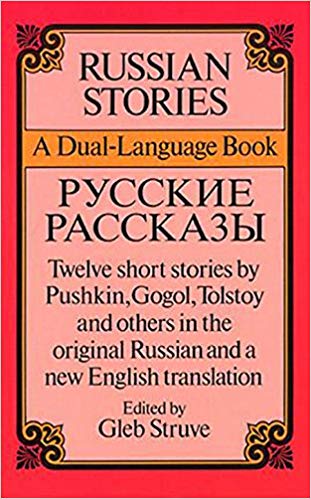 RUSSIAN STORIES: A DUAL-LANGUAGE BOOK
"My first experience with a dual-language book was an English-German dual language "Faust" many years ago. At that point I realised the effectiveness of this methodology.

Many years after, having reached the intermediate level of Russian, I decided to get a dual language book as I did in German and I found this one. My experience shows that half of the language books in the market are just useless or of little use. So I was not sure about getting it, until I noticed that it is a Dover book and I have very good experiences with Dover books (for example Brian Kemple-Essentials of Russian Grammar). So I got it.

What I like most about this book are as follows: You can see the exact translation of every Russian word and phrase so no need to use a dictionary. This is a real comfort if you don't like to keep on searching over a dictionary for unknown words . You read the masters. This is very motivating. If you learn Russian and if you can read Pushkin in its original, this is a real reward. * Intros are quite good. You can learn new facts about the great Russian authors, who set the foundations of one of the world's most fascinating literature.

So I recommend this book to anyone who wants to master in Russian language. However, a little remark, this text is not very elementary. I would suggest that you first get the basics and then work on this book."
Download Kindle version: https://amzn.to/2I5f7Wl
3 Comments
---
"RUSSIAN STORIES: A DUAL-LANGUAGE BOOK Vyacheslav118653"
Thanks you. These are very helpful tips. They help to understand the melody and character of the foreign language. I learn English and read English books with Russian translation. My favorite books are: Jerome K. Jerome Three man in a boat in English and in Russian, David Copperfield by Charles Dickens, and others.