---
Duo Strength v1.1 - XP and crown levels info and other new features [Browser Extension]
ToranSharma
791
Hello again everyone,
Thank you for all the support you have given me over the last nearly 7 months since I first posted about Duo Strength - Browser extension that adds back individual skill strengths. I have just released the new version Duo Strength, version 1.1.0! This new version adds some new features that I hope people find useful, I have found them to be while developing them.
The extension can be downloaded for Chrome from the Chrome Web Store and for Firefox and Firefox for Android from Firefox Add-ons.
Here are some of the headline new features:
Extra Crown and XP info in the crown and streak pop-up boxes, including:

XP level, progress and prediction of next level-up
Maximum number of crowns earnable, and your crown tree level
Breakdown of number of skills at each crown level
Prediction of next crown tree level-up

Suggested skill to practice on completed, fully strengthened trees
Link to next lesson on unfinished, fully strengthened trees
Options page for enabling, disabling and customising features
You can see more details about the new features in the v1.1.0 Release Notes, or you can check out the full list of changes for all the past and future releases in the CHANGELOG.
Here are a couple of screenshots of some of the new features: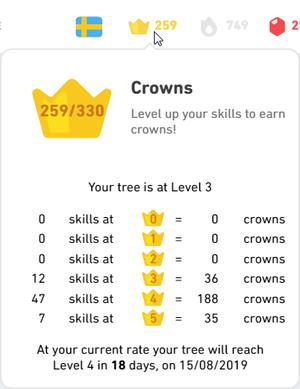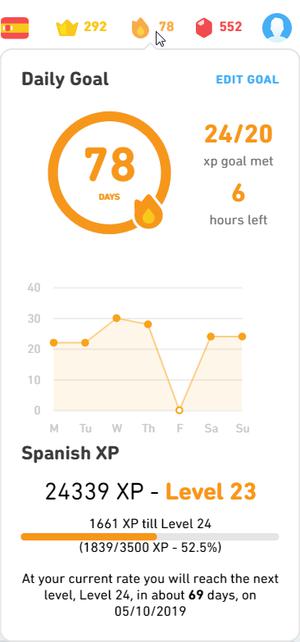 I first started working on this new version in March so I am excited to finally release it. I will say again that this project is open-source and released under an MIT license. If you are interested in helping develop the extension or are just interested in looking at the code, you can visit the project on GitHub; you can also open an issue there or comment on this post to report any problems.
Thanks again for all the support, I'll start work on the swedish version of this post now!
Toran
NB - Options page how-to
The options page can opened in a couple of ways: