---
Duo Strength v1.1 update - på svenska!
ToranSharma
769
Den engelska versionen: Duo Strength v1.1 - XP and crown levels info and other new features [Browser Extension].
I translated the first post into swedish, or at least tried to, so I thought I'd give it another go for the update post.
Hallå igen alla,
Tack för all stöttan du har gett mig under den sista nästan 7 månader sedan jag först postade om Duo Strength - Browser extension that adds back individual skill strengths. Jag har precis gett ut den nya versionen Duo Strength, version 1.1.0! Den här nya versionen lägga till några nya funktioner som jag hoppas folk tycker att de är användbart, jag tyckte att det var när jag utvecklade dem.
Tillägget kan laddas ned för Chrome från Chrome Web Store och för Firefox och Firefox för Android från Firefox Add-ons
Här är några av den rubrika nya funktionerna:
Extra krona och XP information i de krona och streak popup-fönstren, inklusive:

XP nivå, utveckling och förutsägelse av tid av nästa nivå
Maximalt antal möjliga kronor och din krona träd nivå
Uppdelning av antalet färdigheter på varje krona nivå
Förutsägelse av tid av nästa krona träd nivå

Färdighet förslag att upprepa för avklarade, helt förstärkade träd
Länk till nästa lektion för oavklarad, helt förstärkande träd
Inställningssida för att aktivera och att inaktivera och att anpassa funktioner
Man kan se fler detaljer om de nya funktionerna på v1.1.0 Utgåva Anteckningarna, eller man kan kolla in den fulla listan på ändringar för alla förre och kommande utgåvor på CHANGELOG.
Här är ett par skärmbilder över några av den nya funktioner: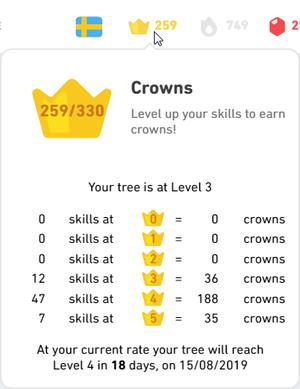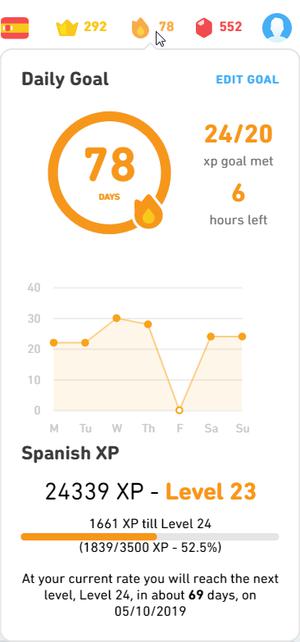 Jag började arbeta på denna version i mars, så jag är glad att äntligen utge den. Jag säger igen att det här projektet är öppen källkod och uppgav under en MIT licens. Om du är intresserad på att hjälpa utveckla tillägget eller du bara är intresserad på att titta på koden, som kan du besöka projektet på GitHub. Där kan du också öppna ett problem eller kommentera på den här posten att rapportera några problem.
Tack igen för all stöttan! Det var ganska svår att skriva den här posten på svenska.
Toran