>

>

Where is the lesson text on t…
---
Where is the lesson text on the web version? Klingon
I can't find where the accompanying lesson text lives on the web version. I've Googled and looked everywhere on Duolingo. I swear I saw it previously but now can't. I have a Plus account, btw.
Thank you in advance.
---
E.T.Gregor
Plus
1959
Do you mean the Tips and Notes? In that case, click on the skill and then on the light bulb symbol.
---
If you are doing the course on iOS or Android, you cannot currently access the Tips & Notes through the app. To access the Tips & Notes, you will have to access the course using a web browser at https://www.duolingo.com/. You can still do it on your mobile device, but you will have to use the web browser instead of the app (or you can do it from a computer). When you click on a Skill, it will expand to reveal a Start button, a key, and a light bulb.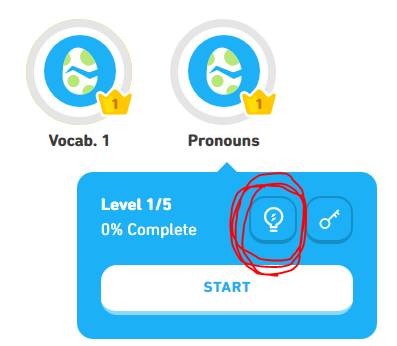 If you click on the light bulb it will reveal the Tips & Notes and give you a detailed explanation of the grammar that is introduced in that Skill.