>

>

It is Not Prudent to be a Mem…
---
It is Not Prudent to be a Member of the 'Facebook' Website
Duolingo requires you to join the
Facebook website. It has been
shown by Congressional investigations
that Facebook sells private and
personal details regarding not
only members of their site, but
people who are not members of
their site.
I do not think it is prudent to be
involved with Facebook. I refuse.
Duolingo links to that website on
the 'drills' language tree page.
Now Duolingo's Esperanto forum has
shifted its support system to the
Facebook website. Announcements,
questions and answers, and also
presentations require any user
of Duolingo to give up their private
information to the Facebook web
page.
Since I refuse to join a membership
that sells and steals personal data
on my and other people's lives, I am
not able to benefit from Duolingo's
Esperanto support team.
This is objectionable. Duolingo's
policy is to keep user information
private. To require us to make that
information public by providing it
to a company that sells it on the
open market seems bizarre.
Duolingo is a great website.
Facebook is an unethical website.
---
UPDATE:
SCREENSHOT: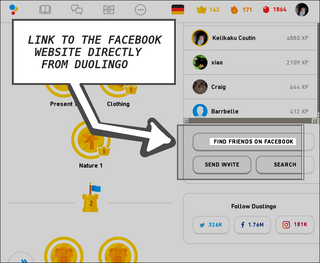 בס״ד