>

>

Abuse - Reporting it Works
---
Abuse - Reporting it Works
Here is a user earning 2300XP
in one minute: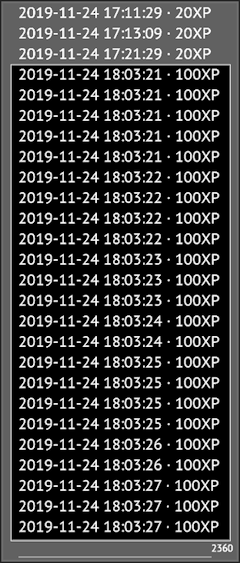 I was tempted to give this user the
benefit of the doubt. This is assuredly
some kind of computer problem of
the sort, in any case, and should be
addressed.
I just emailed this screenshot and
a few like it to abuse@duolingo.com .
After emailing data with the
user´s duolingo profile to the Sysops
at abuse@duolingo.com, they responded
that the account would be deleted.
Once they verified the screenshot, on what
they call "the backend," the account no
longer exists.
That is all it took, a few minutes, and a
day later, the account had been removed.
The name vanished from the leaderboard.
This leads me to think that much of the
issues on the leaderboards are our own
faults for the failure to report abuse of
the XP system and XP farming with "bots."
---
It should be enough to just email a link to
the suspected account user's profile to
the Sysops at the abuse computer.
Also you can just go to the bug report page
and put in the account user's profile
link along with the user name.
Example email: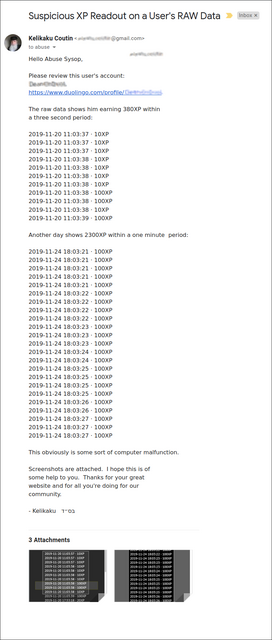 TEXT:
HEADING - Suspicious XP Readout on a
User's Raw Data

Hello Abuse Sysop,

Please review this user's account:
XxxxXxXxxX
https://www.duolingo.com/profile/XxxxxXxXxxX

The raw data shows him earning 380XP within
a three second period:
Please help to keep the leaderboards
clear of abusers and misfits.
Thanks!!
---
בס״ד