---
Unofficial Data from the Golden Owl Hall of Fame (8-22)
Hi, all! I'm sure you have heard about the Golden Owl Hall of Fame, so I'll spare you the details. For reference, 176 members as of 8-22-2014.
Really, it is just a list composed of language-learning data. So, why not try to compile that data for you to see just how the community is learning?
The First Completed Tree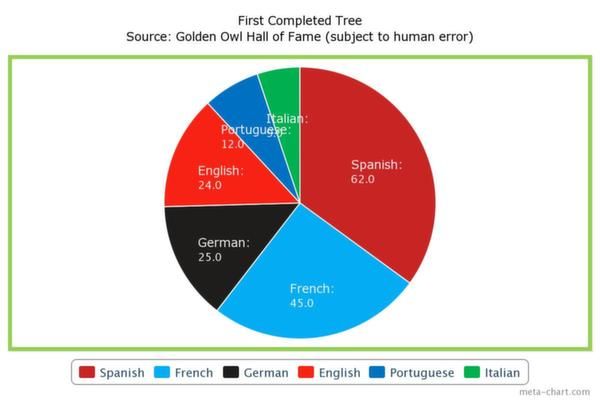 As I expected, Spanish came out on top, with 35% of the members having earned their Spanish owl first. French trees compose 25% of the first trophy entries. German and English hold 14% and 13.6% respectively. Portuguese claims 6.8% of first entries on the list, while Italian finishes off the tally with 5.1%. -0.5% sampling error.
The real fun started after the first entries (using the three highest, Spanish, French, and German).
Spanish onwards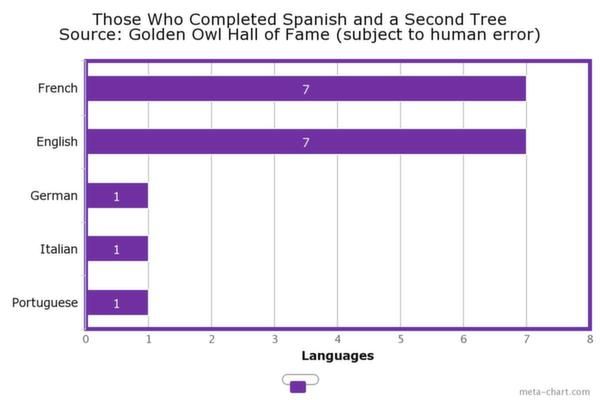 What languages do we tend to learn after Spanish? As you can see, French and English are tied for first. Is it possible that French seems easier after one Romance language? What is the reason behind English as the second choice: reinforcement or "standard"?
French, then what?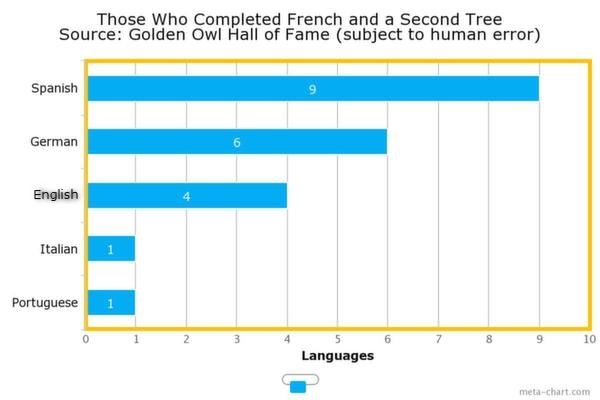 No contest here, plainly. Spanish is the most popular choice after French. But, what is surprising is German in second place. For all the French learners out there, what entices you to learn German after French?
German chooses...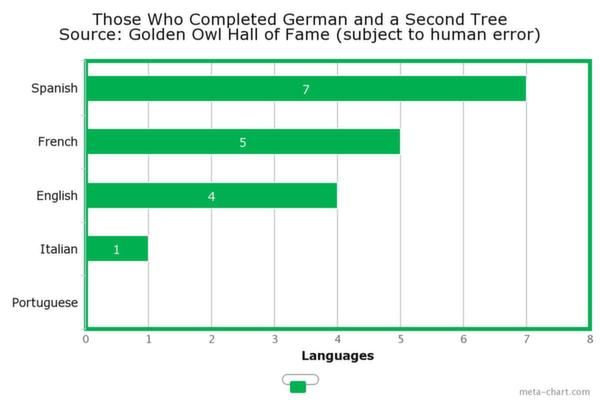 This is one was always in the dark for me. I don't see too many "I finished my German tree" posts, so I was surprised to see Spanish as #1 on languages to learn after German. But, French is not too far behind, due to its second-place popularity after Spanish overall.
Any comments, questions, or observations?
The figures from the first chart are the actual counts: Spanish (62 trees), French (45 trees), German (25 trees), English (24 trees), Portuguese (12 trees), Italian (9 trees).
Of course, data is subject to human error (mainly my own), but for 99.9% of it, it's all correct. Data from English/Spanish Duolingo forums. Hopefully Dutch will be able to make an entrance next time (if).