>

>

Why Norway (and, thus, Norweg…
---
Why Norway (and, thus, Norwegian) is Awesome
Recently I fell in love with Nordic languages. Maybe because they sound like liquid music. I don't know if it's the fact that I think Iceland is the most beautiful place on Earth, or because I think nobody is more awesome than the Danes because they invented Legos. Perhaps I owe this to the reality that Sweden has awesome meatballs. And all of these languages have long histories with amazing people. Just look at the Vikings and Ylvis. I'm learning Danish right now, and I gotta say, I've never had more fun in my life. It's hard to pronounce, sometimes hard to spell. I make lots of mistakes. But in the end, when I finally pronounce skildpadderne correctly I come away feeling like I just saved the world or something.
Swedish is on it's way, and I await it eagerly. But Norwegian isn't here yet. That's ok, I can wait. But maybe I can help speed it up a little bit, too. Below are some reasons I think Norway is an amazing place with amazing people.
Fjords
The beauty of the Norwegian fjords is absolutely spectacular. Fjords are typically found near the coast of Norway. They're formed when a glacier retreats, forming a big u-shaped valley which the sea fills with water. Typically, when somebody thinks about a fjord they associate it with Norway. No surprise, because there are over 1500 fjords in Norway.
Northern Lights
The Northern lights, or Aurora Borealis are caused by caused by the collision of solar wind and magnetospheric charged particles with the high altitude atmosphere. The result: breathtaking beauty. The Northern Lights are something we often associate with Norway. Although visible in many other northern places, the best place to see them is northern Norway because it's the most accessible and has a fairly moderate winter climate.
Vikings
They've gotten a bad rap as raiders (remember pillage first, then burn). However there were also a lot of Vikings that were explorers, settlers and traders. In reality, they weren't much worse than the British. Over all, they're pretty awesome, especially because they drank ale and had cool ships. Although the Norwegians won't try to kill you and make your skull into a cup anymore, they still can look a lot like vikings.
Winter sports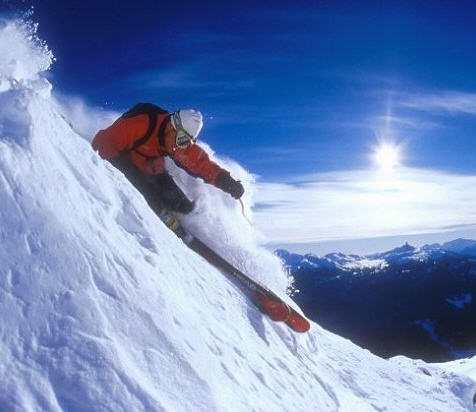 When you give a Norwegian a pair of skis and direct him to a snow covered slope, get ready to see some serious awesomeness. Norway has won a total of 329 medals (118 gold) at the Winter Olympics with their top sports as cross-country skiing and speed skating. If you go to Norway, you'll have tons of opportunities to ski, and you'll get to watch the best skiers in the world (the Norwegians).
Seafood
Norway is known for it's seafood. After all, when most of your country is bordered by water you tend to get good at fishing. They have excellent salmon, trout, codfish and herring. It's a part of Norwegian culture, it's a part of Norwegian history, and it tastes really good (if you don't let it sit out too long).
Amazing Buildings
Norwegian architecture may not be the most amazing in the world, but some of it is pretty cool. Directly above is the Akershus Fortress, a huge medieval castle built to protect Oslo. Another amazing piece of architecture is the Oslo Opera House.
Mythology
Although bloody, and depressing, Norse Mythology is pretty amazing. If you haven't read stories about Thor, Odin, Loki and the rest of the Norse gods you haven't had fun yet. It's a lot more interesting than Harry Potter, and if your familiar with it you you'll learn quite a bit about Norwegian culture and history.
Awesome Norwegians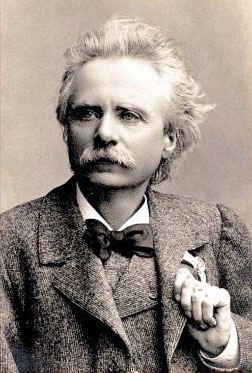 Above is Edvard Grieg, perhaps the coolest composer of all time, he was Norwegian. Among some famous Norwegians are: Ronald Amundsen the first guy to reach the South Pole. Roald Dahl wasn't born in Norway, but both his parents were Norwegian, he wrote awesome books like Charlie and the Chocolate Factory. Sonja Henie was a Norwegian figure skater and film star. She won more Olympic and World titles than any other ladies figure skater, she was also once one of the highest paid stars in Hollywood. Kristofer Hivju has an awesome beard. This alone is pretty cool, that and he acts in The Game of Thrones. Here's a list of some other famous Norwegians.
Norwegian Language
Most of the Norwegian vocabulary dates back to Old Norse, the language of the Vikings. Norwegian is also mutually intelligible with Swedish and Danish. If you want to know what Norwegian sounds like, imagine having a potato in your mouth, being drunk and singing. But seriously, it sounds pretty cool. Here's the unofficial national anthem of Norway.
To conclude
I probably haven't told half I could have about Norway, probably not even a fraction. But (hopefully), by now you realize that Norway is pretty darn awesome. Their language is a part of their culture, a part of their spirit. It is a part of their history, a part of their pride, a part of their awesomeness. Duolingo can help us to experience a little bit of this Norwegian coolness, help us to obtain the key that unlocks so many treasures. Most of you probably know that most Norwegians speak English. So why learn it? Because you don't really understand a man until you talk to him on his native turf, in his native tongue. Norwegian is a part of Norway, it's part of its aura, it's part of it's entire being. Every language is a key to the country it's from, it fits the country like the skin on our body. Please Duo, help us to get this key! Help us to unlock another door that will lead us on so many adventures.
Skål!